other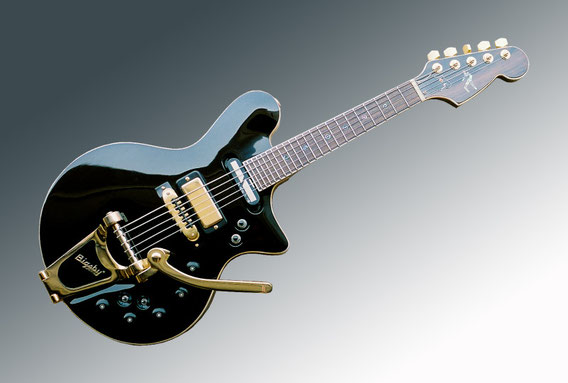 This section covers instruments which do not fit into the guitar/bass category.
the beast

The 'beast' was built to the rather exact specifications of the client.  The neck-through construction consists of a Zebrawood/Purpleheart center section with Zebrawood body wings.  The neck is divided into a 34" scale bass side and a 25 1/2" treble side.  The two fingerboards are Bocote.  A headstock machined from aluminum crowns the neck.  The fretless bass side is headless, with ABM tuners and a custom made bridge with Graph-Tech piezo saddles.  A Bartolini vViper pickup and a Sustainiac comprise the electronics.  The treble side, four courses of strings, are also fitted with a Sustainiac, piezos in the bridge and a P-bass style singlecoil.  The treble strings run to the tuners on the headstock. 

The wiring proved to be a major enterprise.  Combining the various signal sources while ensuring a good power supply and minimizing interference took some figuring out.  The 'beast' feeds a 13-pin output along with 1/4" outputs.  Operating the 'beast' requires a manual, even though the knobs are grouped according to function - there are controls for the mag signal preamp, two Sustainiacs, the piezos and the hexaphonic output.
The intent was to create an instrument which can be played with a two-handed tapping technique, with the courses providing shimmering sound 'washes' under the bass side leads.   Running the two necks into separate amps provides additional tone-shaping options.
'MandoSinks'
A bit of a tour de force, this mandolin was commissioned by John Sinks, engineer and tech for Robert Fripp/King Crimson.  It has a 13-pin hexaphonic output in addition to a customized Bigsby tremolo, a Seymour Duncan mini humbucker, piezos, a Sustainiac and Sperzel locking tuners.  Body and neck are Mahogany with a lightly aged nitrocellulose finish.